Deadfall "s/t" 7″ CBP001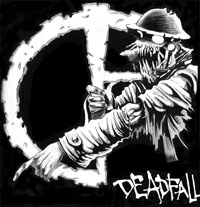 15 years of Tankcrimes recap
CBP001 – Deadfall s/t 7″
When Deadfall was asked in 2001 to record a 7″ for new local label Controlled By Plague we were stoked! Recorded at Burnt Ramen by Mikee Ramen with art by our own Andrei Bouzikov. When it came out in 2002, Bob Scammon, the owner of CBP gave them to us, all 1100 of them. What a guy! His idea for the label was simply to pay for releases and give them all to the bands. With no distribution, mail order, promotion, ect. Someone in the band had to step up and figure all that shit out, that someone was me. I got a list of places to send review copies and some potential trading partners from Jeff Six Weeks and got to work. I loved it right away and knew I wanted to run a label. I moved 1000 copies that year selling and trading 1-6 copies at a time. We saved the colored vinyl for our US tour in 2003. The second press was funded by a friend of ours we met through Bob, Xian Calinsky who I teamed up with planning on running the label, CBP with him, keeping the name to honor Bob's generosity. That partnership lasted through the second release. Stay tuned for that one soon as we recap all 99 releases over the coming weeks.
1st press – 1000 black 100 red
12 panel foldout covers
Red vinyl had obi strip – US tour edition
2nd press – 500 green
4 panel covers, less art, tree-free paper